Thanks for visiting our website!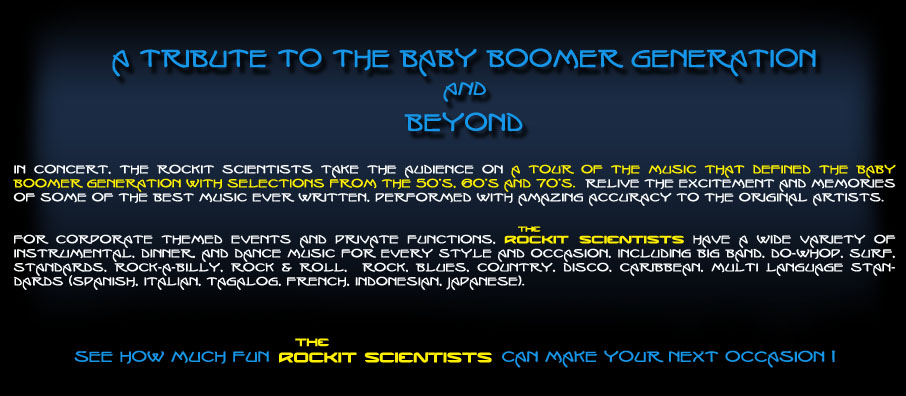 Here are some more exciting shots of the band at recent venues.



♫ You guys were awesome in Fountain Valley! We were the 40 year old groupies (6 of us) whooping for you guys and dancing in place over by the canvas cabanas…Our group is growing as every concert we bring new friends who then become RS devotees. We're all genuflected at the alter of the Beatles so we've just transferred that 30 year attachment to you guys and it has really been a blast for us. Thanks again! 14 of us will be herding over to your next concert. The Fountain Valley 14
♫ Just wanted to get on your mailing list.  Loved you in Arcadia.  Anxious to see you in Temple City.  Please add me to your email list.Sandy
♫ Great show in Arcadia guys.  Especially liked the rendition of Ricky Nelson's "Traveling Man".  When are you coming back to the High Desert?Maurits
♫ Thank you for the Pretty Woman song.  Now I can teach my boyfriend the words so he will sing to me ha ha.  You sure had a great show.Marian
♫ Wow, The best band around is all I can think of. The fun you all have on stage.Carol
♫ Thanks for the great times this past season.Steve
♫ We enjoyed seeing you in La Mirada Friday night.  You are a favorite with the crowd!  Thanks for all the good music.Phyllis
♫ You guys are among the most hard working musicians that I have known.  I like your band because your honest performances and the overall high-quality sound.  I consider RS or the music you play is a lost "art" in the world.  You are musicians that make "old" music new and refreshing again.PC
♫ I wanted to personally thank you for entertaining us at Relay for Life.  As this has been my first Relay for Life experience I thank you for making my job much easier by bringing your talents to the event.Heather
♫ Thank you sooooo much for letting me know it IS alright to belly dance to your music.Val
♫ Your music really added a special touch to the celebration and we thank you.  We hope to interact with you in the future. Chrysti & Landy.